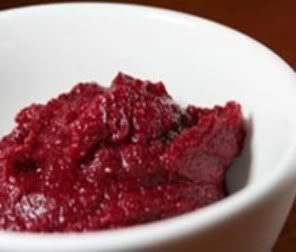 This gross looking (but tasteful)"Coagulated blood" Halloween dip is bound to make an impression.
Ingredients:
6-8 medium beets, cooked, peeled, and coarsely chopped
2 cloves garlic, chopped
1/3 C. extra virgin olive oil
2 tbsp. tahini
3 tbsp. fresh mint leaves, minced (or to taste)
2 tsp. red wine vinegar
1/2 medium lemon, juice of
sea salt, to taste
freshly ground black pepper, to taste

Instructions: 1. In a large food processor, combine the chopped beets, garlic, olive oil, and tahini. Process until mostly smooth.
2. Transfer to a serving bowl.
3. Stir in the chopped mint, vinegar, lemon juice, and salt and pepper to taste.
4. Cover and refrigerate at least an hour before serving, and up to 24 hours

Enjoy!